New markets, more customers, growth and expansion. Sounds exciting and promising! You have defined your overall business strategy and you have decided which countries to target; so, and next obvious step is to plan your digital strategy. What is the approach you should take and plan to follow? Do you need a multi-regional or a multilingual website? Do you need to localize your content and how will search engines know who you are targeting? As an established digital agency in Nicosia, here's our International 2018 SEO guide. We hope this will help your website become more finable and rank higher.
SEO
SEO (Search Engine Optimization) is the process of making your website findable in search engines and helps users find about your business and reach your website.
Guide on International SEO
International SEO focuses on making your website and business findable in different markets and regions. In other words, helps you reach clients from different markets and not just local ones. Search engines like Google have different localized versions of their engines (such as google.com.cy, google.co.uk, google.ae and so on) which they use to serve results to local users depending on their location. For example, users located in Cyprus will view results from the google.com.cy version and those results are different on each location (Google database). Google always tries to satisfy their searchers by serving the best results, and users need a product or service is likely looking for one close to them.
Multilingual website
A website that offers content in more than one language, is considered multilingual. For example, a business based in Cyprus with Greek, English and Russian versions of the same localized content.
Multi-regional website SEO guide
A site that targets users in different countries. For example, a business based in Cyprus with different versions of the content targeting users in UK, UAE etc.
Now that you have a better understanding of what is SEO, it's time to see what approach is the best and what are the next steps to put a plan together.
Site audit
First thing you should do is to make sure that your website is bug-free and has no issues, as expansion means more website versions, if any issues exist, they will simply multiply and will make it harder and more time-consuming to fix them. So, make sure to test your original website as thoroughly as possible and fix any problems. At BLEND we use several different tools, licensed and free to test and fix any issues on the websites and strive for the optimum results. Give us a shout if you need any help with auditing your website.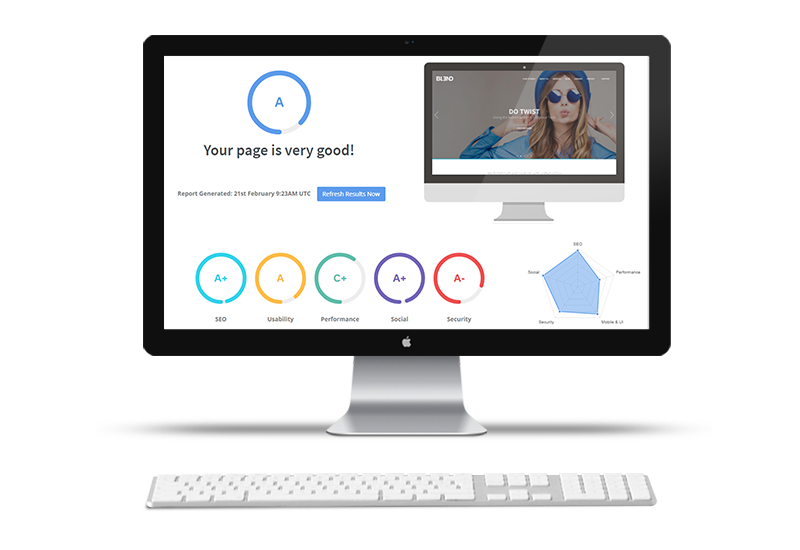 Country targeting
Once you have fixed your website issues, you can embark on country targeting by creating different, localized versions of your website and content. There are three methods you could follow:
ccTLD (Country Code Top Level Domain) – www.blenddigital.co.uk
If you have a strong attachment to the country you are targeting (i.e. local offices) this would be the option to go with. It's obvious to the users (and search engines) that the company is or has a local presence, and you are more flexible on having a totally different version (content, look & feel) of your website. Of course, this means more websites to maintain and increased cost.
Subdomain – uk.blenddigital.com
If you are expecting a strong push from international markets this would be a great option. You can maintain some metrics that give authority to your sites such as domain trust and popularity of your root domain. It's also a good indication to the users that this is country-specific version for the website.
Subfolder – www.blenddigital.com/en-gb
Although subfolders do not have the same advantages as the pre-mentioned methods, this is the easiest approach to do and maintain. First of course, you must make sure that your platform and CMS (Content Management System) is multilingual and is sufficient for your purpose.
SEO guide to localize content
This is one of the most important aspects when you decide to go international. Content! You need to make sure that you are providing content relevant and most importantly suited for your new audience. By saying that I mean using local language, currency, time zone and contact information (phone numbers, addresses etc.) so you can send a strong signal to both users and search engines that they are viewing the right "local" information. Cultural differences are also something you should consider. Make sure you are using the right colours and images that are not disrespectful in some cultures and regions. This way you will create a positive experience for the users and potentially increase leads and conversions.
Tell Google that you have other languages
When you are ready with your localized content for each language/version you need to make some adjustments and tell Google about your different languages. Search engines need to know the language of your page to serve that result to users searching in that language, so somehow you need to tell them by defining that on your code. For example, Google uses the hreflang attribute (rel="alternate" hreflang="x") which was introduced by Google in 2011 and allows you to tell Google what the relationship is between your web site's pages in alternate languages.
Code example:
<link rel="alternate" href="http://www.blenddigital.com" hreflang="en-gb" />

For example, if you create an English version of your website targeting UK residents you can tag it as UK English by using hreflang="en-gb" and Google will know that this is the correct content it should serve to people with an IP that has a reason to believe is from UK. Have in mind though that you also need to include a reference to all pages that serve as alternates for it.
 
Below is an example of how the hreflang attributes should look like for a page with Greek as the default language has alternates in English (targeting UK) and Russian.

Code example:
<link rel="alternate" href="example.com" hreflang="el" />
<link rel="alternate" href="example.com/fr/" hreflang="en-gb" />
<link rel="alternate" href="example.com/pt/" hreflang="ru" />
 
The format of the hreflang value is in ISO 639-1 but you also need the ISO 3166-1 Alpha 2 format to signal which region you're targeting. As not all codes are intuitive (i.e. code for UK is "gb" and not"uk" there are a few tools that can generate the correct values to use such as this hreflang generator.
 
Note that Bing (Microsoft's search engine) does not use the hreflang attribute but instead gets the language signal from a <meta> tag the <html> or the <title> element.

Code example:
<meta http-equiv="content-language" content="en-us">
<html lang="en-us">
<title lang="en-us">
Other SEO signals
A few other factors that you should consider is hosting your site (if you are using a completely different website for each country/region) to a local IP, make sure that you create links to local content (other local websites), create backlinks from local resources (links from other local websites on your website) and of course make sure that you are doing what's necessary to rank on local search engines such as Yandex (Russia) and Baidu (China).

In a nutshell
To conclude, before you start, make sure to have a plan in place and decide on the best approach for your technical aspects including platform capabilities, content generation and localization techniques you need to use.
 
If you need any help for any or all of the above, it is highly recommended to consult a specialized digital agency, like BLEND!