At BLEND, a digital agency based in Nicosia,  our main goal is to deliver the optimum result in terms of quality and effectiveness to all our projects. To achieve that, a smooth and effective process flow must take place, regardless of the size of the project. Below I will try and explain briefly our project life cycle process and the steps of each phase. Basically, how we blend tasks together at BLEND:
1. Project discovery during the project life cycle
We believe the most important of all phases is the Project discovery one. Where we discuss, analyse and identify requirements of the project at hand.
a. Client meeting – Initial brief to identify project goals and project timelines
Every project starts with a brief from the client. So, we gather all required information necessary to identify the project goals, target audience and set the project timelines.
b. Identification of team members and communication of a clear brief to read and for concept research
Our team consists of people with different skill-sets so we identify the most appropriate team members to work on a project. For example, on a new website usually a UI, a web designer, a front-end developer and a web programmer will work together.
c. Brief discussion meeting 
A meeting is set between the involved team members to get the brief from the project manager. During which we brainstorm on the creative direction, do a competitive analysis, decide on any platforms and libraries and in general we gather all required information the project needs to be formed.
d. Site mapping
We then create a site map which will allow us to visually represent the structure of the project. Likewise, we use color representation to identify templates to be designed and obtain a functionality overview.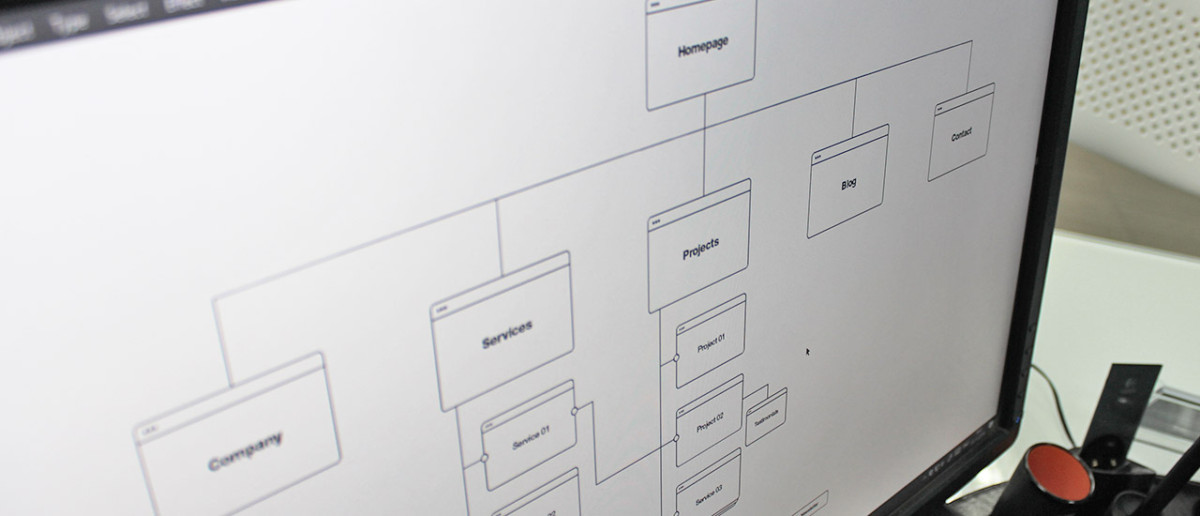 e. Project timelines & milestones
We set the project timelines and milestones and check if we are in accordance with the requested delivery date.
f. Create Proposal 
As we now know the required hours, we then put together a proposal. The former includes the creative direction description, technical analysis description, project timeline and of course the cost estimation to be send to the client for approval.
2. Project planning in the project life cycle
As soon as we have the client's approval we can schedule the project.
a. Functionality analysis – Kick off meeting
The planning starts with a kick off meeting with all involved team members. During the meeting we will discuss in depth the project functionalities and requirements, break them down in tasks and milestones.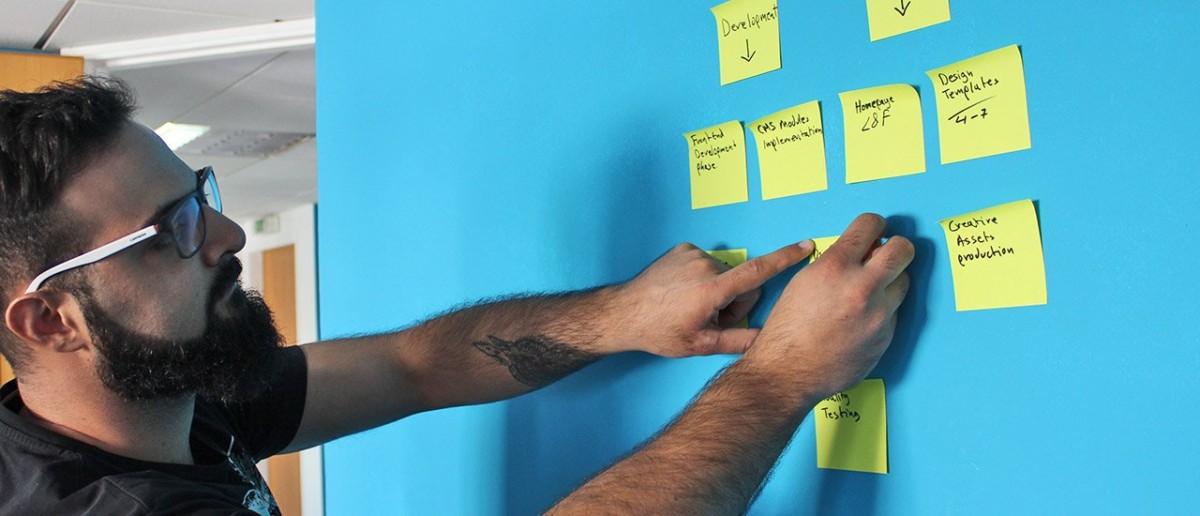 b. Create Trello Board and assign task on Teamweek
On a previous article I mentioned Trello and Teamweek which we use for project planning and scheduling. We additionally add all tasks and assign them to team members with detail descriptions and any required deadlines.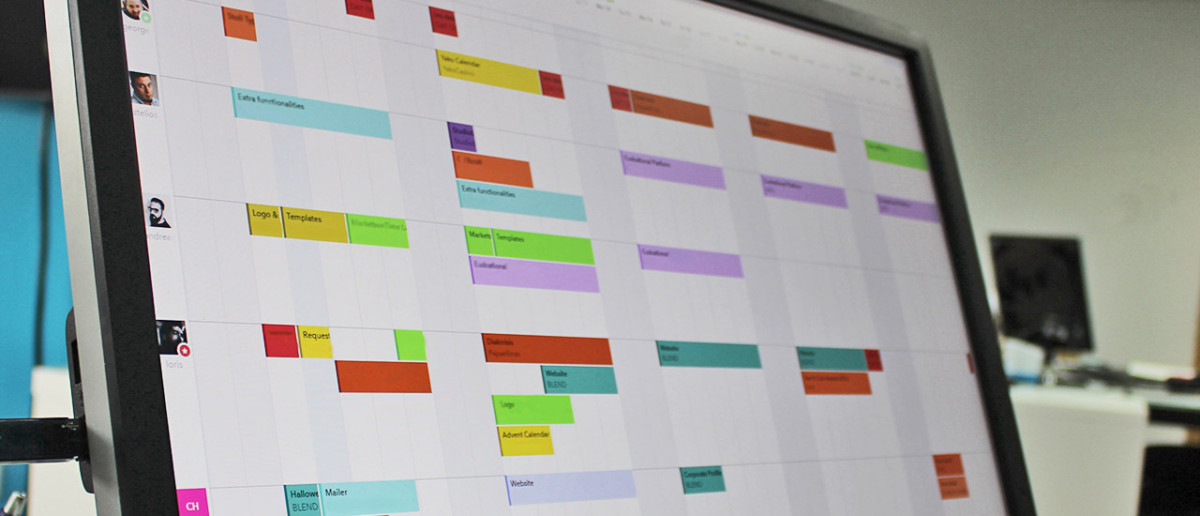 3. Project design
a. Wireframes
We set out the research and creative exploration phase in our wireframing process as the first step in the project design process. This process allows us to define the information hierarchy of the web design, making it easier to plan the layout according to how we want the user to process the information. It also includes the user experience and structure of the content and sitemap. This ensures that everything will work in a user friendly and logical manner for desktop and mobile users. For larger projects our Data Analyst we give directions on the functional aspects and placements of any CTAs etc to achieve maximum optimization and conversions.
b. Team presentation for feedback and refinement
We then have a quick team meeting again where the UI designer will explain the mockups to the rest of the team. During which, we always welcome any suggestions for improvements or amends.
c. Prototype (optional)
We usually develop a prototype when we think it is necessary to explore or test a functionality or a layout in more detail. This is useful in projects with complex menus or animations and transitions that we need to better test in mobile resolutions, different browsers etc.
d. Approval by client
As soon as we finish any wireframes and prototypes we present these to the client along with our direction to obtain approval and / or feedback.
e. Look & feel & Templates
This step includes the creative approach of how the project will look, how modern, unique and how in-line will be with the client's established brand. Moreover, the design phase also includes the manipulation of generic images to be used as headers or call to actions if applicable as within content on the templates. In this phase our Creative Director gets involved to give feedback on the overall quality of the project.
f. Approval by client
We then send to the client all final layouts with look & feel for approval so the development phase can start.
4. Design Implementation & Development
a. Brief – Kickoff meeting
After finalizing the templates and getting the approval from the client we do a development kickoff meeting. Is this where the design team will pass their vision and direction to the design team and brief them on any elements that cannot be visually represented, such as transitions, motions etc.
b. Development
During our website development phase we undertake any front-end development or / and back-end development for the project. So, the front-end is where we develop the layout, structure and overall aesthetics of the project exactly as the approved designs, but functional with appropriate content. Whereas, the back-end development involves the creation of any advanced dynamic functionalities needed to happen on the project. It also entails the customization and implementation of any necessary Content Management System for full control over your project's content.
c. Responsive Fine Tuning
When designing and developing a website, we include responsive as default so we must make sure that everything is optimized and adapts perfectly to all resolutions. We usually recreate the menus and hide / replace any large images, adjust the paddings and run tests on different resolutions until we are sure everything adapts perfectly.
5. Testing Revisions & QT
a. Quality and validation Testing
To ensure the optimum outcome of our projects we've developed a series of Quality tests we undertake on each project. Below is a series of tests we run for website projects.
Browser Test: We make sure the website is displayed effectively using a number of different browsers
W3C Code Validation: Validation of Code under the W3C coding rules
Page speed test: We test the website's downloading time and how it responses to low and high connections.
SEO test: We check the website for any SEO problems and adjust accordingly to improve for better search engine ranking.
Debugging: We do several tests on the CMS by adding/editing/deleting/sharing content and make sure everything is working properly.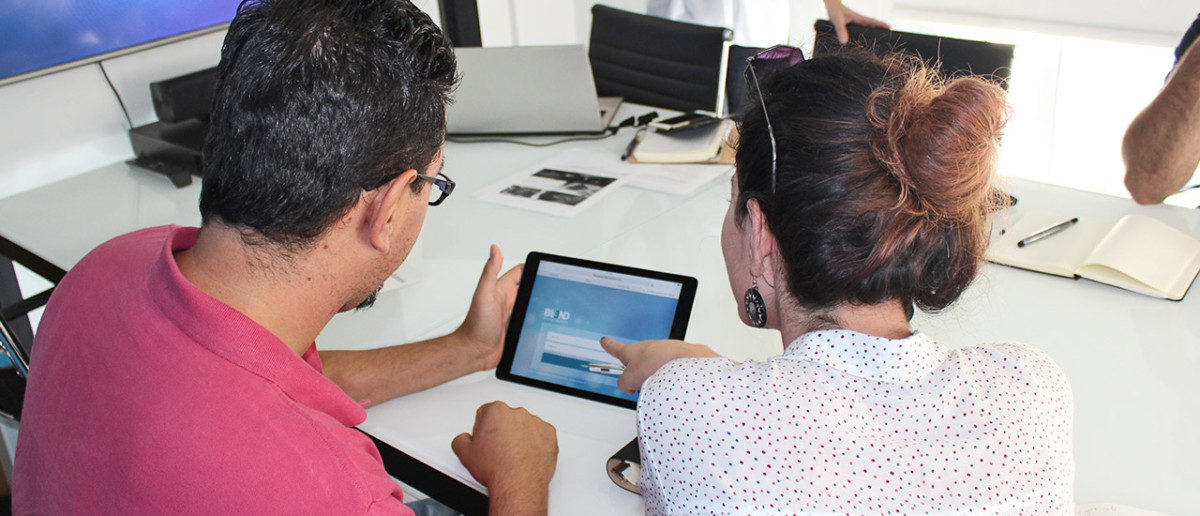 b. Creative Team Quality Testing
After testing that everything is optimized and works without any flows, our Design Team, usually our Creative Director with the Project Lead designer. Therefore, they go through the project to ensure we will deliver a pixel perfect project.
c. Internal Beta Testing
Final step but important is testing by BLENDers who were not directly involved in the project. For example, on websites they go through all pages, create accounts if applicable, register in forms etc and they give us feedback on the general workflow and usability of the site.
This is how we BLEND tasks together, and what sets us apart as a digital agency in Cyprus!