I am sure all of you came across a Google My Business (GMB) listing when searching for a business name or a service. A typical example of a GMB listing is the detailed information of a business on the right-hand side of the SERP (Search Engine Results Page), known as the Google Knowledge Graph. Another one is a listing of a business in Google maps and the one you come across more frequently, is within the results page, a listing of three businesses under a map.
In this article, I will try to explain what a GMB is, the importance of it and how to set up one for your business.
Google My Business, formerly known as Google Local or Google Places is a directory, a listing of businesses, a service, owned by the king of search engines. Put simply, if you do not have a GMB profile you cannot compete in local search.
As Google is used by the vast majority of consumers and aids them in making decisions, it's obvious why a business should not only be listed but must be properly listed instead. Google makes it simple for people who are looking for your business, to get all they need at a glance. This increases the percentage of people contacting you, as the more clicks a user has to make the less the chance he/she will proceed with the desired action.
GMB features
A GMB listing can be very detailed and
can be displayed by Google in places of high importance on SERPs.
So, let's see where a GMB listing can appear and what kind of information it can contain.
Google Local Pack or Maps Pack
Just under the ads section which is displayed at the very top of the SERP, you will find the Local Pack result. Google Local Pack shows the three-top businesses (most relevant to your search, according to Google algorithms) just below the map when you search for a business in or around a particular area (i.e. Nicosia).
The Local Pack is one of the most frequently displayed features as it appears in 30% of first page results, above all organic results. This means users will most probably click on one of the Local Pack results instead of organic results and that makes the feature one of the best traffic-driven solutions in Google.
Example of Google Local Pack
Google Knowledge Graph
This feature is where the listing is displayed on the top-right hand corner when someone performs a brand search (i.e. name of your business).
It's a box containing business information from where a user can get a good idea about the business at a glance. Also contains several contact information, available for a user to contact you.
Here is a list of GKG's components:
Photo, with link to view more photos
Map
Reviews from Google and the web (i.e. Facebook)
The category you chose your business to be in
Address with an indication if currently opened or closed
Phone and link for appointments
Q&As in Google
Small description
Latest Google posts (article, event, updates etc.)
Links to the website and social network profiles of the business
All the above fields are managed within the Google My Business account and we will expand on the most important ones later on this article.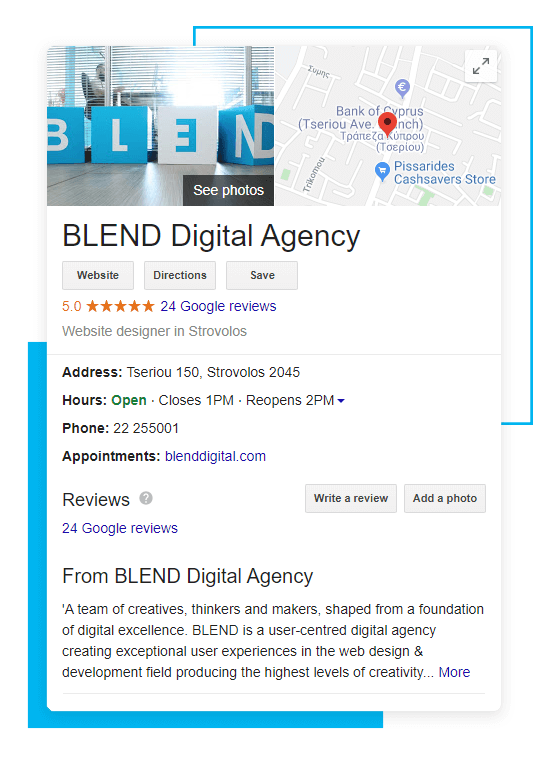 Example of Google Knowledge Graph
Google Maps
Google maps are the most famous service of Google after the search. It's available on pretty much all devices and people are using it to find businesses and locations and also get directions to those places, as it has a navigation feature. Having said this though, isn't it frustrating when you need directions to a place, and you realize Google led you to the wrong address? Well, that's not Google's fault but the business's owner who did not update the listing with the correct information or did not claim and verify the place.
Example of My Business Listing in maps
As Google says – Stand Out, it's Free!
Reading this far, I assume you are convinced that you need to list your business and create a profile. Below I will try and take you through the process to set up your GMB.
Set up your Google My Business
Setting up your GMB is easy, quick and free.
Step 1: Login into your Google account. This account will be associated with your business, so make sure you are using one you are using your own account and not someone else's.
Step 2:  Visit https://www.google.com/business/ select "Start now" from the top-right hand corner.
Step 3: Follow the step-by-step guide to complete your verification. It will ask you to enter a few information such as the business's name, address, delivery related information, business category, phone and website.
Step 4: After you enter your details you will be prompted to verify your business.
Google Business verification
Google offers several options to verify your business:
By Postcard: They will send you a postcard via mail with a code (usually takes a week). Once you receive the postcard login to your account and enter the code written on the card. You can always request a new card if it gets lost.
By phone: If you are one of the lucky ones that Google lets to verify their business by phone (not all businesses are eligible) you will see this option. Google will send you a text message with the code.
By email: Again, this is only for some businesses. Not all are eligible. If your business is, you will see this option, and Google will send you the code via email.
Instant verification: This option is for businesses which are already verified via Google Search Console, another service Google offers to monitor your website's online performance on Search results. Not all type of businesses, though, are allowed.
Bulk verification: This is for businesses with more than 10 locations.
Optimize your Google My Business Listing
Having your listing on the top results can be easy for less-competitive markets but much more difficult for others. Your business physical location is, of course, the most important factor but there are ways to optimize your listing for higher chances to get listed in the top three.
Ideal Location
If you have many competitors nearby, the harder it is to get your listing in the top three. Note that Google has very strict terms, and if you break them with false information you will get very negative penalties from Google.
Content
The most important rule in SEO (Search Engine Optimization). Content is King. Add as much information and media as you can, and above all keep it updated. You should periodically sign in and check your GMB dashboard to make sure everything looks right. Anyone can suggest an edit so having all information correct from the first time, will eliminate random people suggesting changes on your listing.
Photos
GMB allows you to have a cover photo. It's the one shown first on the Knowledge Graph feature mentioned above. This is the most important of all the photos you will add, so make sure to upload a good one. Acceptable formats are jpg and png and you should upload photos that are at least 720px x 720px.
Another important photo is Profile photo. It appears when you upload new photos, videos and replying to answers. You should add your logo or another brand recognizable photo.
Apart from the cover and profile photos, you should upload as many photos as you can and keep uploading more from time to time to keep your listing fresh and updated.
Hours and Holidays
As previously said, many people get the information they need from the Google listing, instead of taking a step further to visit your website. Therefore, false information or lack of it can cost you sales. Google shows if you are open or closed so make sure to add your working hours correctly and keep your closing dates updated.
Reviews
One of the most important features of GMB is reviews. Google takes reviews into account for SEO and combined with the fact that users consider higher ratings better, makes reviews very powerful. When a user leaves a review, you should reply with a thank you message or respond accordingly if it's a negative one. This shows to customers that you appreciate their feedback, but also shows to potential customers that you care. It's also important to ask from happy customers to leave a review and if you have their email you should send them a direct URL and ask for their feedback and rating.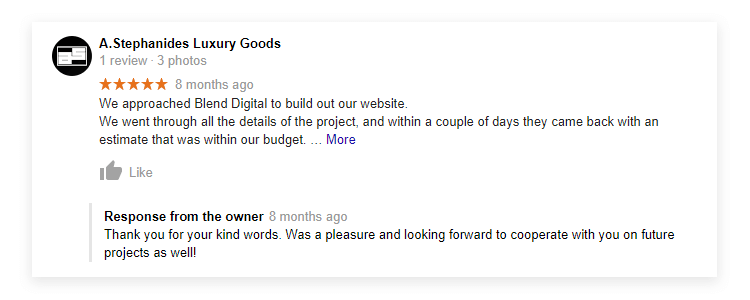 To find your review share link, go to your GMB and from the menu on the left click Home.
In the "Get more reviews" card, you can copy your short URL to share with customers.
Posts
This is a section that allows you to post updates, events, offers or products. You can think of posts as mini ads on your listing. On these posts, you can add a description, photo or video and a CTA (Call-To-Action) with a link to another page. Posts stay live for seven days and is a great way to promote your offers, events or give updates for your business.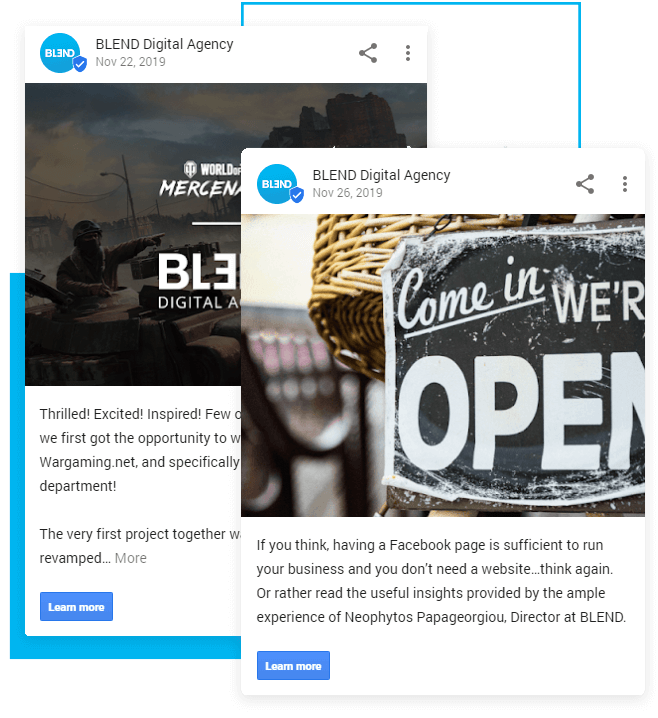 Download the GMB mobile app
If like me, checking and managing staff on the go or on the couch, you might find useful the GMB mobile app. It's available for both Android and iOS. You can manage pretty much everything from the app and also view important insights.
To conclude, Google My Business is an effective way to grow your business and directly affects your online local marketing efforts. Every business owner should take advantage of it, especially if you are targeting local customers. Without one, you are missing potential customers in your city looking for services like yours.
GMB is a good start for your business online presence, and it gets more sophisticated by the day. It does not rely anymore only on the information you provide but also attempts to cross-reference and gets information from other websites. For example, if you are a restaurant, it attempts to find your menu from a website and add the link to the GMB listing. Therefore, a proper and professional website will help your business even more.
If you do not have a website or you need to re-design your existing, contact us to get a free quote. Also, check my article on the importance of a website for a business.